Take control of your kidney health
Join the 200,000+ people now educated on kidney health. Attend a no-cost virtual class (online or via telephone) from the comfort of home , or find an in-person class (where available).
Charlotte, North Carolina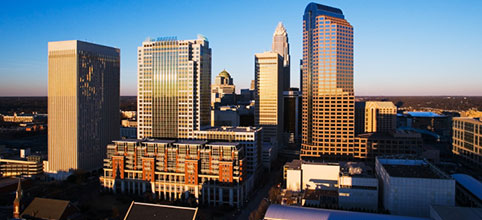 Downtown Charlotte
Do you want some good, clean American fun? The perfect place to find it is Charlotte, NC. You can easily enjoy all Charlotte has to offer and keep up your treatments, since there are six DaVita® dialysis centers throughout the city.
Charlotte was founded in the mid-18th century at the intersection of two Native American trading paths and nicknamed The Queen City in honor of Queen Charlotte, wife of King George III of England. The old crossroads is now at the heart of modern Uptown Charlotte.
In 1775 townsmen created and endorsed the Mecklenburg Resolves, a set of laws to govern Charlotte's independence. Charlotte hosted both American and British army encampments during the Revolutionary War and earned a lasting nickname, the Hornet's Nest, due to a series of skirmishes. Charlotte's revolutionary legacy can still be celebrated today in such landmarks as Independence Boulevard, Independence High School and Freedom Park, site of the Festival in the Park (704-338-1060) each September.
Car racing
Charlotte may have earned its nickname the Hornet's Nest during the American Revolution, but now it can be justified by the loud buzz of NASCAR racing. There's almost always something big, loud and fast happening at Charlotte Motor Speedway (800-455-FANS), located just outside downtown. When there is a lull in the action, you can take the Speedway's Feel the Thrill Tour: access all the exclusive places only the drivers and crew can go, and don't forget to take a picture in the Victory Circle! No wonder Charlotte is home to the new NASCAR Hall of Fame (877-231-2010).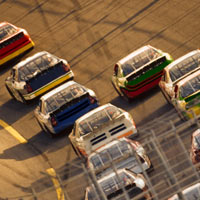 NASCAR racing
If you think you've got what it takes to hit speeds of up to 160 mph in a stock car (at least as a passenger) then sign up for a ride-along with the Richard Petty Driving Experience. Make bookings online or by calling 1-800-BE-PETTY. Then you can sing your own "Ballad of Ricky Bobby" from the movie Talladega Nights, which, incidentally, was filmed in Charlotte.
Want to slow down the pace? There's no better way to soak in Charlotte's atmosphere than by taking a charming, horse-drawn carriage ride through downtown. Southern Breeze Carriage (704-301-5111) offers a variety of options to view the fastest-growing city in the south's many diverse and cultural neighborhoods.
Historic Charlotte
The Historic Latta Plantation (704-875-2312) is a destination not to be missed. Experience what life was like for the planters, yeoman farmers and slaves of a prosperous cotton plantation in the early 19th century. Tour the simple yet grand main house, which has been restored and furnished with authentic Early Republic housewares and furniture. Look into the world of the first African American slaves. You'll see their crude, sparsely equipped log houses and their clothing and food rations, and experience their devout belief that one day God would deliver them from bondage.
Latta Plantation is located in scenic Latta Plantation Park on Mountain Island Lake. The park offers horseback riding, canoe rental, fishing, hiking and picnic grounds. Spend an entire day in the great outdoors; it's a lovely alternative to the hustle and bustle of downtown Charlotte.
You may be surprised to discover that before the Great California Gold Rush, Charlotte was the first and largest producer of gold until 1848. Conrad Reed, a 12-year-old boy, went fishing early on a spring morning in 1799 and brought home a 17-pound yellow rock which the family used as a door stop for three years until it was identified as gold. Conrad's father sold the rock for $3.50 and the Reed Gold Mine (704-721-GOLD) was founded. Many of the tunnels have been restored for tours so you can relive the grueling work of the miners, who produced a million dollars a year in gold.
Charlotte is constantly growing, and has been since the American Revolution. It's the proud home of such cultural institutions as The Harvey B. Gantt Center for African-American Arts+Culture (704-547-3700), The Charlotte Museum of History (704-568-1774), Discovery Place and Charlotte Nature Museum (704-372-6261), The Levine Museum of the New South (704-333-1887), Wing Haven Gardens & Bird Sanctuary (704-331-0664). The golf courses are first-rate, the weather mild, and it's a great sports town, with the NFL's Carolina Panthers (704-358-7800) and NBA's Charlotte Hornets (704-467-6387). Charlotte has an exciting nightlife, a variety of restaurants and southern hospitality.
Summary
From the historical landmarks to the roar of the speedway, Charlotte is a city that offers quaint southern charm and a variety of things to do. Plan a trip and experience all that this great American city has to offer.
Take a Deeper Look at Education