Take control of your kidney health
Join the 200,000+ people now educated on kidney health. Attend a no-cost virtual class (online or via telephone) from the comfort of home , or find an in-person class (where available).
Las Vegas, Nevada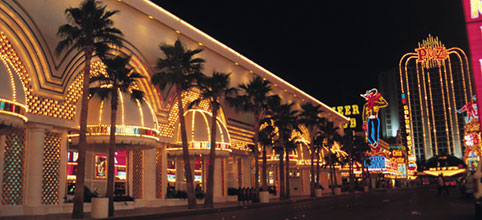 Downtown Las Vegas
The number one visitor destination among DaVita dialysis patients is Las Vegas. What makes "Sin City" so popular? Well, in addition to a number of DaVita® centers that can provide quality care to the visiting patient, there are countless things to do, and they don't all involve betting your hard-earned cash.
Las Vegas is famous for its lavish hotel casinos, and the place to see them is on the Strip. Rows upon rows of tables and slot machines greet you as soon as you walk through the elaborately decorated entranceways of the themed hotels. The MGM Grand even has tigers roaming around, though they're kept in a large glass case to ensure there are no unwelcome interruptions to your card game.
Even more impressive than the hundreds of ways to risk your money are the shops. The indoor shopping malls at Caesars Palace and the Bellagio, to name but two, are breathtaking. The shops are expensive, and the attitudes of the staff are rather reminiscent of The Devil Wears Prada, but they're great places to browse, which doesn't cost anything. Walking from shop to shop in the comfort of air conditioning cannot be underestimated either, especially in summer, when desert temperatures reach well into triple figures.
Another Las Vegas treat is the buffets that run all day. You don't need to be a guest to enjoy the buffets, and there's usually enough variety that you'll be able to find foods that are recommended for your dialysis diet. One word of warning: the lines for the buffets can be long, so call ahead for a reservation if they are accepted.
The activities
Vegas is even more spectacular from the sky, especially at night. Heli USA (702-736-8787) will pick you up from your hotel, and treat you to a champagne toast, while other helicopter services, located just off the Strip, can have you up in the sky and back down within the hour.
While there is everything you could possibly wish for in Las Vegas, the Grand Canyon remains a big draw. Helicopter rides are available, again with hotel pick up. For those who prefer to keep their feet on the ground, you can drive to the West Grand Canyon from Vegas in less than two hours.
For those seeking a little cultural enlightenment, the Liberace Museum (702-798-5595 ) is well worth a visit. Founded in 1979 by the late entertainer Liberace and located on Tropicana Avenue, just off the Strip, the museum features a dazzling array of "Mr. Showmanship's" former possessions. Rare antiques, extravagant jewellery, his unique wardrobe, historical pianos and his collection of custom cars are on display.
For art of a different kind, The Gallery of Fine Art at the Bellagio (877-957-9777) routinely features works by the likes of Van Gogh and Monet.
If golf is your thing, you can play TPC The Canyons (702-256-2500). Other golf courses are also available, including mini-golf for those who are not quite pros.
After all the shopping, eating and activities, what better way to unwind than a relaxing gondola ride? The Venetian Hotel (702-414-4300) includes a canal that snakes through its shopping center with traditionally-clad oarsmen who glide you around while you sit back and enjoy the ride.
The shows
The city has an enviable nightlife, and for good reason. Performers such as Celine Dion, Elton John and David Copperfield frequently entertain in Vegas, but tickets are expensive and can sell out quickly. Not to worry, there are countless other shows that run year-round and are usually cheaper and easier to get tickets for. Jubilee!, at Bally's (877-603-4390) is a traditional Vegas-style revue, while Louie Anderson entertains crowds with his comedy routine at the Excalibur (702-262-4400). Mystère, at the Treasure Island (800-392-1999), is another show worthy of mention. Performed in a state-of-the-art theater and featuring a cast of 72 — from dancers and clowns to champion-caliber acrobats — the production is not to be missed.
Summary
Las Vegas is a truly unique place, and certainly lives up to its billing of "Disneyland for grown-ups." Where else in the world can you go from enjoying views atop the Eiffel Tower, to taking a gondola around Venetian canals, to flying over the Grand Canyon all on the same day? If this sounds fun to you, join so many other dialysis patients and plan a trip to Las Vegas.
Take a Deeper Look at Education