Take control of your kidney health
Join the 200,000+ people now educated on kidney health. Attend a no-cost virtual class (online or via telephone) from the comfort of home , or find an in-person class (where available).
Maine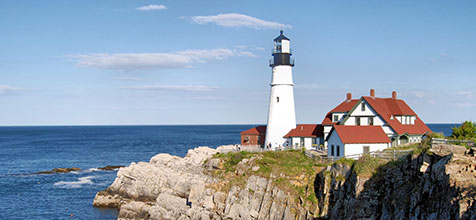 Maine, also known as Vacationland, is full of natural wonder and fun facts. (Did you know it's the only state with one syllable?) From thousands of acres of national parks to the beautiful stretches of coastline, Maine is simply picturesque. Because this state truly has four distinct seasons, there is something for everyone. In the summer, you could find yourself driving along and suddenly be in the midst of prime blueberry season. After all, Maine produces 99 percent of the country's blueberry supply, according to 50States.com. If you thrive during winter, you can fill your agenda with an abundance of snow activities. No matter which season you prefer, put Maine on your must-see list.
Spring in Maine
For a scenic drive up to Canada, take Route 201. You'll ride alongside rivers and lakes, through cozy villages that offer lodging and restaurants when you need to stretch your legs. Although it can be an ideal drive when the weather is warmer, go through this area again when the leaves begin to turn in September and October.
After hibernating from the winter chill, take in some fun outdoor activities at Moosehead Lake. This place boasts ATV riding, biking, hiking, golf courses and various water sports. Camp or rent a cabin for a weekend or week-long getaway.
Summer in Maine
Believe it or not, the Maine coastline is longer than that of California (more than 3,400 miles). With such a magnificent stretch of beach, there is plenty to tour. Have a picnic on the sand, try your hand at sailing, visit the village shops, tour a historic lighthouse, eat famous Maine seafood, take a bicycle tour--there is no end to the activities available to travelers. No wonder ex-presidents and celebrities vacation here!
Maine is also home to the clothing brand L.L. Bean. Visit its flagship store in Freeport and check out their calendar of events. One of the attractions is their outdoor summer concert series. Bring some food and a chair and enjoy the sounds of good live music.
If you're looking for some fun around Labor Day weekend, look no further than the Blue Hill Fair, the Down to Earth Country Fair. Find carnival rides, chariot races, live music, lumberjack contests, local produce, farm animals and so much more, all surrounded by a beautiful green landscape. Rumor has it this fair was the inspiration for the children's classic, Charlotte's Web.
Fall in Maine
When the summer winds down, the air will become crisp and "peepers" will want to take in the sights. Leaf peeping is when people visit New England to view the fall foliage. Go to LeafPeepers.com to find out when to travel to Maine for the ultimate in autumn sightseeing.
At Acadia National Park, you're sure to get an eyeful of color and there are various campsites for overnight stays. Check out the historical museum, drive up Cadillac Mountain, hike the trails or listen to the chirping birds in the Wild Gardens.
Winter in Maine
For the winter adventurers, Maine is a must-see. From skiing and snowshoeing at Sugarloaf Mountain to riding snowmobiles in Baxter State Park, those who love the cold will feel right at home. Check out Mt. Kathadin, also located in Baxter and Maine's highest peak, which soars a mile above the lakes and forests.
If you're not a thrill-seeker, fear not. In Portland, you can check out the First Friday Art Walk and peruse the local galleries and museums. There is music and food, and they are open no matter how cold it gets outside. Sledding and ice skating are other fun activities that don't require you navigating down a steep mountain.
Make Maine your main destination
Whether it's taking in the dramatic coastline, experiencing world-class skiing or peeping at the autumn leaves, you'll find something you love in Maine. For your convenience, there are three DaVita dialysis centers to help you with your treatment needs, even for people on home dialysis. Learn more about how to arrange dialysis when you travel or call DaVita Guest Services at 1-800-244-0680.
Take a Deeper Look at Education