Take control of your kidney health
Join the 200,000+ people now educated on kidney health. Attend a no-cost virtual class (online or via telephone) from the comfort of home , or find an in-person class (where available).
Myrtle Beach, South Carolina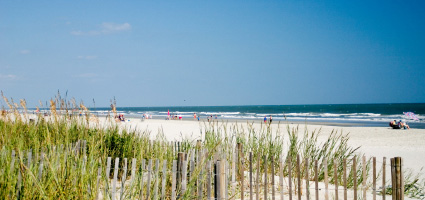 The Grand Strand is a famed 60-mile stretch of beach along the South Carolina coast, and Myrtle Beach is in the heart of it. Originally a weekend destination for lumber and railroad workers at the turn of the 20th century, it has become one of the premier resort destinations on the East Coast. Named after the prolific wax myrtle plant, Myrtle Beach offers a variety of sporting, recreation and family oriented activities.
A Night at the Opry
Myrtle Beach is sometimes called "Branson by the sea," a reference to the famed musical venues in Branson, MO. Myrtle Beach features several theaters with live musical entertainment and dining. Most shows are appropriate for all ages. Check the websites for updated show times and featured performers.
The Carolina Opry (1-800-843-6779) started the Myrtle Beach musical theater explosion in 1986. Founded by musician and entrepreneur Calvin Gilmore, the Carolina Opry features entertainment on a grand scale. Musical genres on offer include country, bluegrass, western and big bands. The venue also hosts comedy acts. The Christmas show is immensely popular, and often sold out months in advance. The Opry also features a daily laser show called Light. Select, a show that appeals to your musical tastes while you take in the spectacularly choreographed lasers, ablaze with color and movement.
Local band and country music superstars Alabama founded the 2,200-seat Alabama Theater (1-800-342-2262), located in Barefoot Landing, a waterside shopping complex. Alabama got their start playing gigs around Myrtle Beach before they achieved gold and platinum status in the recording industry. The group returns to their roots and performs at their theater several times year. The Alabama Theater also books celebrities and country music legends such as Loretta Lynn. The venue currently hosts a sweeping theatrical experience called One — The Show, which runs several times a week. Replete with costumes and special effects, the show's production numbers have audiences returning for more.
If you're looking for nostalgia, Legends in Concert (843-477-5678) will bring back some fond musical memories. Billed as "The World's Greatest Live Tribute Show," it showcases musical impersonators of larger-than-life stars like Elvis Presley, Michael Jackson, Judy Garland and Liberace. The show also pays homage to Dolly Parton, Elton John, George Strait and Marilyn Monroe. The performers rotate the acts several times a year.
Looking to transport yourself further back in time? Then try Dolly Parton's Dixie Stampede Dinner & Show (1-800-433-4401) or Medieval Times (1-866-543-9637). These dinner venues feature spectacular shows that evoke bygone eras. Dolly Parton's Dixie Stampede Dinner & Show has a Civil War theme, complete with dashing soldiers and Southern belles. Arrive at least an hour early and take the opportunity to meet some of the stars of the show: the horses! The open-air stables allow adults and kids to see these beautiful animals up close. The venue's Carriage Room hosts an opening act which starts 50 minutes before show time. When the main show is ready to start, you'll be ushered into the 35,000-square-foot arena.
Medieval Times has a 1,300-seat arena to accommodate a jousting tournament, the highlight of the evening. Guests cheer their chosen champion, and are treated to a show of knights in armor, sword battles and sorcery. Arrive at least 90 minutes early for the best seats and view of the action; seating is on a first come, first served basis. Demonstrations by a master falconer as well as knighting ceremonies are performed before the show.
One-stop shopping and entertainment
Myrtle Beach has several shopping destinations that not only have retail stores, but entertainment attractions as well. With so many things to do and see, you could spend anywhere from a couple of hours to a full day exploring what these locations have to offer.
Broadway at the Beach (1-800-FUN-INMB) is a retail and entertainment complex surrounded by a lake. It features several specialty shops, restaurants, night clubs, hotels and other attractions such as Ripley's Aquarium (1-800-734-8888), The Palace Theater and Pavilion Nostalgia Park (843-918-8725), an amusement park and arcade.
Barefoot Landing (843-272-8349) is reminiscent of an old fishing village. Not only does it have several stores and restaurants, it also has a boardwalk and a pier which showcases the wildlife and beauty of its 27-acre lake. The Alabama Theater is located in Barefoot Landing, as well as Alligator Adventure (843-361-0789), one of the largest reptile zoos in the world.
Along the Grand Strand
If you're looking for outdoor fun, Myrtle Beach has plenty to offer. Avid golfers can enjoy over 120 championship golf courses in Myrtle Beach. The courses offer a variety of difficult levels, and many are created to accommodate the surrounding natural habitats and protect the beautiful wildlife of South Carolina. Myrtle Beach Golf (1-866-409-2177) is a comprehensive guide to courses in Myrtle Beach, their tee times, rates and available golf packages. You can even book reservations online.
Love to fish? There are plenty of opportunities to indulge in Myrtle Beach. One of the most popular fishing events is the Grand Strand Fishing Rodeo (843-626-7444), a competition sponsored by the Myrtle Beach Chamber of Commerce. There are no entry fees, and there are several events fishermen can enter. Whether you prefer to cast your line into the surf, from one of Myrtle Beach's many piers or into the deep sea, there's fun for everyone. Myrtle Beach has other recreational water sports as well. Whether your passion is scuba diving, windsurfing, boating or just relaxing at one of the many beaches, you can find a water-based activity to enjoy.
Casino cruises (843-249-9811) are also a popular attraction. These floating Las Vegas-style casinos are complete with buffets, live music and entertainment and of course, gaming. Coast along the scenic Little River inlet and try your luck. Shuttles are available at local hotels and other locations to take you to the ships.
Summary
Myrtle Beach offers so many things to do, it's no wonder many people visit this South Carolina destination again and again. Whatever season you plan to visit, Myrtle Beach is sure to please with its temperate weather and varied activities and attractions.
Take a Deeper Look at Education