Take control of your kidney health
Join the 200,000+ people now educated on kidney health. Attend a no-cost virtual class (online or via telephone) from the comfort of home , or find an in-person class (where available).
San Diego, California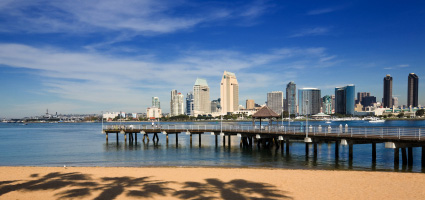 San Diego
If your only requirements for a great vacation are fine-sand beaches and soothing weather, stop right now and just go to San Diego.
If museums, family-fun parks, botanical gardens, world-class dining and a fabulous performing-arts scene wouldn't hurt, keep reading… and then go to San Diego. This old Spanish Colonial outpost, naturally sheltered from the Pacific, has grown into one of America's most pleasant and exciting destinations.
Balboa Park
With dozens of distinct attractions including the famous San Diego Zoo, city-owned Balboa Park (619-239-0512) stretches the meaning of the word "park" to its limits. Conceived in the late 19th century, Balboa Park is now home to so many museums that it's been called the Smithsonian of the West.
The San Diego Zoo (619-231-1515) may be Balboa Park's best-known attraction. Thousands of animals belonging to hundreds of species live here. Forget cages: this zoo specializes in "bioclimatic" environments that replicate the animals' natural homes, including zones for apes and polar bears. There's an adorable petting zoo for the little ones, and the zoo has one of the world's most successful giant panda breeding programs. (Note: the zoo's hilly terrain may be fine for the critters, but visitors with limited mobility may want to rent a wheelchair and/or ride the zoo's buses and tram.)
For old-fashioned relaxation, wander through Balboa Park's Spanish-style Alcazar Garden or take a spin on the Carousel. Got the theater bug? Look no farther than The Old Globe (619-23-GLOBE), presenting literary work as diverse as Shakespeare and Dr. Seuss. If museums are your thing, the institutions in Balboa Park specialize in folk art, photography, science, air and space, cars, sports, model railroads, natural history — pretty much any subject that can be covered by a museum! You may recognize one of them: the San Diego Museum of Man (619-239-2001) appeared as the exterior of Kane's home in the classic Citizen Kane.
Coronado
The nearby city of Coronado (866-599-7242) makes a great day trip or base of operations — especially if you're fortunate enough to stay at the historic Hotel del Coronado (1-800-468-3533). Accessible by bridge or ferry (1-800-44-CRUISE), Coronado — often called Coronado Island, though it isn't really an island — retains an old-fashioned sensibility that charms visitors. Coronado has a swimming beach and a few museums, but for many, just sitting and watching the sailboats go by can be amusement enough.
Downtown San Diego
Eight neighborhoods make up Downtown and they're all worth exploring, but the one that often appeals to visitors first is the Gaslamp Quarter. Preservationists saved the quarter's Victorian buildings from the wrecking ball in the '70s, and now they house offices, boutiques and galleries. Three historic Gaslamp Quarter hotels have kept their lights on: the Keating (1-877-753-2846), the Horton Grand (619-544-1886), and the US Grant (1-800-237-5029).
San Diego is stuffed to the gills with great restaurants, so this might be a good place to mention that fish tacos, a local favorite, can be enjoyed by those on a kidney diet. DaVita dietitian Sara Colman advises: "Fish tacos include several kidney-friendly foods: fish, cabbage, and mayonnaise or white sauce made from sour cream. If given the option order them on a flour tortilla, which is lower in phosphorus than the corn — or limit to 1-2 corn tortillas (including the chips!). Use only a little salsa or hot sauce to keep potassium in check. Grilled fish instead of breaded or fried is also a more kidney-friendly way to prepare fish tacos."
La Jolla
Technically a neighborhood of San Diego, economically La Jolla (pronounced "la hoya") is in a class by itself. If you want to bring home anything other than memories from La Jolla's trendy shops, be prepared to spend.
La Jolla's first hot spot, and still a great beauty spot, is La Jolla Cove, where the comings and goings of the tides creates an ever-changing landscape. Other La Jolla highlights include the Museum of Contemporary Art San Diego (858-454-3541), the Salk Institute for Biological Studies (call 858-453-4100, ext. 1287 for a tour), and the 1,200-acre UC San Diego campus (858-534-2230). Golf fans will know this name: Torrey Pines. Call 800-958-4653 for a tee time.
SeaWorld®
"Where Worlds Connect" is the slogan at SeaWorld San Diego (800-257-4268). Like the San Diego Zoo, SeaWorld is a place for families to connect while learning about the world around us. While best known for Shamu the killer whale, SeaWorld also hosts sharks, penguins, starfish and a multitude of other sea creatures.
San Diego's North County
Quieter beaches and a more rural environment make the communities in the northern San Diego a great place to visit. The beaches of Del Mar, Encinitas and Cardiff-by-the-Sea (760-436-0431) offer surfing, sunbathing and excellent people watching, while the Del Mar racetrack (858-755-1141) awaits those interested in fast pace action. The world renowned San Diego Wild Animal Park (619-685-3291) in Escondido offers an extraordinary opportunity to watch all manner of wildlife in a savanna-like environment.
Summary
Unless you're a snowboarder, chances are good that whatever you want in a vacation, San Diego has it. From architectural history and theater, to sunbathing and surfing, San Diego has more than enough options for every member of the family. And with five nearby DaVita centers, dialysis patients can join in the fun.
Take a Deeper Look at Education