Take control of your kidney health
Join the 200,000+ people now educated on kidney health. Attend a no-cost virtual class (online or via telephone) from the comfort of home , or find an in-person class (where available).
Virginia Beach, Virginia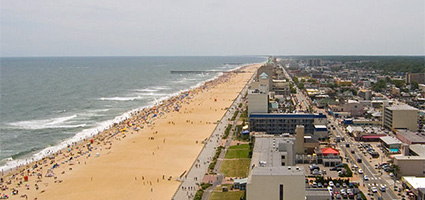 Virginia Beach
Admiral Christopher Newport organized the first landing on Virginia Beach on the morning of April 26, 1607. George Percy, aged 26, was among the first adventurers to climbed the massive sand dunes. After seeing the dogwood trees in full bloom and the yellow jasmine woven within the deep green woodlands he wrote, "Heaven and Earth never agreed better to frame a place for man's habitations than Virginia."
Virginia Beach, known as Blue Wave Beach, is one of the most beautiful, cleanest and environmentally healthy beaches in America. Over $22 million was spent to replenish beach sand from natural erosion and hurricane damage, creating a six-mile shoreline that widens to 400 feet (wider than a football field). The famous boardwalk was also rebuilt and widened to create a seawall and to accommodate entertainment, including outdoor cafes, concerts and people watching.
There are many ways to enjoy the sun and sand in Virginia Beach. Take an Eco-tour with Chesapean Outdoors (757-961-0447). They offer guided dolphin watching tours in kayaks, relaxing ocean front bike tours and historical, wilderness hikes on the same trails the first explorers used. If you're feeling adventurous, they will even teach you to surf with dolphins. Hang Ten, Moon Doggie!
Soak up the sun
There are plenty of beaches to visit in Virginia Beach. Frolic in the ocean's surf at Little Island Park (757-426-0013), which offers a fishing pier, picnic shelters, playground equipment, tennis and volleyball courts, and a small lake for canoeing. If you want a more secluded spot, try the Resort Beach area, an ideal place to swim and work on your tan.
Get your hands wet and go on a fishing exhibition. Charter a boat for the afternoon and take advantage of some of the best fishing in the country. If you're a beginner you can start with Grey Trout or Black Sea Bass. If the deep sea is calling you, try your hand at Blue Marlin, Sailfish or Yellow Fin Tuna. AquaMan Sportfishing Charters (757-200-0200) provide options and fully-equipped boats to make this a fun and safe sport.
How would you like to see a spectacular panoramic view of Virginia Beach? Then try parasailing, which several local operators offer. Soar like a bird 1,200 feet in the air, the wind in your hair, and see the beach in the most exhilarating way. It's safe, fun and makes a good story to share with friends back home.
Historically rich
If keeping your feet on land is more your style, there is no better place to tour our country's history than Virginia Beach. Learn about Adam Thoroughgood, one of the earliest residents of Virginia Beach. Thoroughgood, at age 18, left his wealthy family at Kings Lynn, Norfolkshire, England to seek adventure and prosperity in the New World. Virginia Beach's landscape resembled his homeland so much, he named the area Lynnhaven. In 1635, Thoroughgood earned a 5,350 acre land grant for persuading 105 people to settle in Virginia. Augustine Warner, an ancestor of George Washington, was among the brave 105 to follow Thoroughgood. Explore the Adam Thoroughgood House (757-460-7588), nestled near the banks of the Lynnhaven River, built circa 1630; it's one of the oldest brick homes in America.
Discover Virginia Beach's history of diversity. Pleasant Hall is the historic site where the first African-Americans participated in the Civil War. The Moses Myers House (part of the Chrysler Museum of Art, 757-333-1087) creates an accurate picture of the late Federal period and the life of a prosperous Jewish family. The Virginia Legends Walk (757-463-4500) honors Virginians who have made significant contributions to the world. Celebrated are Edgar Allen Poe, Ella Fitzgerald, Bill "Bojangles" Robinson, Pearl Bailey, Booker T. Washington, Arthur Ashe, Patsy Cline, Thomas Jefferson and Captain John Smith.
There are many historic sites in Virginia Beach proper, but a day trip to Colonial Williamsburg (757-229-1000), an hour from Virginia Beach, is like stepping back in time. The 18th century community is located on 173 acres, has more than 500 restored and reconstructed buildings, and has hundreds of actual citizens living authentically the way settlers did over 200 years ago.
The Jamestown Settlement and Yorktown Victory Center, where the drama of the American Revolution unfolded (1-888-593-4682), are also in Williamsburg and not to be missed.
If you love the ocean but like to stay dry, visit Nauticus (1-800-664-1080), an exciting interactive science and technology center exploring the power and residents of the sea. The Virginia Aquarium & Marine Science Center (757-385-FISH) has more than 800,000 gallons of aquariums filled with exotic sea life, and an indoor Coastal River Room where birds and turtles roam free. Marine life petting zoos are available at both attractions, just in case you want to touch a shark or stingray.
Hampton Roads Naval Museum (757-322-2987) is an educational treat. Dedicated to naval history, including Civil War artifacts from shipwrecks, the museum overlooks the great Battleship Wisconsin, which is available to tour. Explore this historic warship, walk her magnificent teak deck, stand beneath her imposing guns, meet an active duty sailor and hear tales of the sea from docents.
Virginia Beach is a town that loves and caters to its visitors. There are plenty of beachfront and inland hotels, condos, and houses for rent that range from affordable to luxury. There are also camping facilities if you want outdoor charm. Plenty of shopping, golfing, water sports and nighttime entertainment await you.
Summary
There's something for everyone in Virginia Beach. Where else can you enjoy a majestic coast, beautiful scenery and ocean adventures, while reliving some of the greatest American historical events?
Take a Deeper Look at Education