COVID-19 UPDATES
DaVita remains committed to serving the needs of the hospital community and we value your ongoing partnership as we navigate this rapidly changing situation. Please contact your Hospital Services Administrators or Regional Operations Directors for the most up to date information, or email HSG@DaVita.com.
DaVita Hospital Services

Deliver high-quality and innovative kidney care in a hospital setting through a partnership with DaVita.

Contact Us
Deliver high-quality and innovative kidney care in a hospital setting through a partnership with DaVita.
Work with a Trusted Partner
Safety is DaVita's top priority. As the first and longest national Joint Commission-accredited provider of inpatient kidney care and apheresis therapies, DaVita Hospital Services can help you offer hemodialysis, peritoneal dialysis, continuous renal replacement therapy, slow low efficiency daily dialysis, apheresis and discharge planning. You can also discover consultation services for safety and quality standards for your hospital procedures.

Industry-leading safety standards

Revenue growth opportunities and reduced costs

Assistance with survey readiness

Expertise in hiring and training dialysis nurses
Leverage a Record of Excellence
Through a dedication to quality care and innovation, DaVita-affiliated physicians have continuously improved clinical results for our patients.
12+
years of expertise and infrastructure
Approach Health Care Holistically
With DaVita Hospital Services, your hospital can improve clinical quality, safety, operational efficiency and survey readiness.

Simplify Discharge Planning
Patient Pathways, DaVita's provider-neutral discharge planning, placement and education service, focuses exclusively on end stage kidney disease (ESKD) and acute kidney injury (AKI) patients. Our services can help save your team the time and stress of coordinating dialysis placements and enhance patient care and satisfaction.
Learn More
Dialysis in Skilled Nursing Facilities
DaVita Post-Acute Services offers on-site dialysis in skilled nursing facilities. This removes the challenges of transportation for dialysis patients as well as potentially reducing lengths of stay and readmissions.
Learn More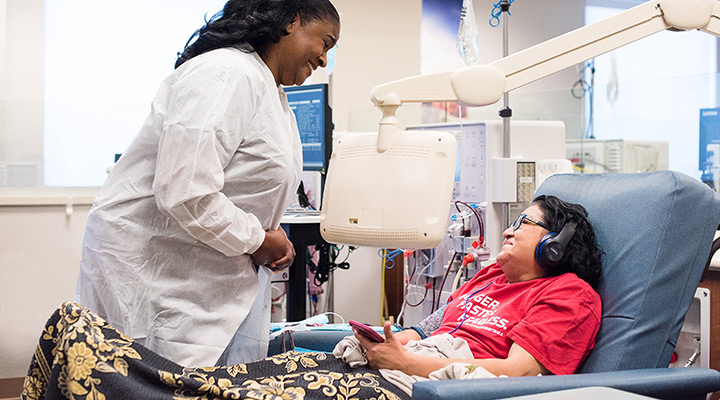 Work with a Culture-Driven Provider
DaVita Hospital Services offers world-class training and a culture-driven workplace focused on enhancing patient, physician and staff experience. DaVita believes that by caring for each other, teammates can improve health care, grow as leaders and make a real difference in the communities they serve.