Driving Quality Care

We focus on safety to help improve clinical outcomes.
A Culture of Safety
A multi-disciplinary oversight group of hospital and DaVita clinicians actively provides guidance based on regular safety reviews and clinical audits and robust data from every patient and every treatment. Proprietary acute clinical outcome indicators (ACOIs) inform the care team of opportunities for better coordination and improved survey readiness.
Contact Us
Framework for Care
Our aim is to provide the best patient experience, guided by the DaVita Patient Quality Pyramid. Built on fundamental safety initiatives and quality outcomes, DaVita Hospital Services also leverages the transition of care for patients, across settings and modalities.
Regular multi-dimensional Pyramid Reports, our quality-assurance tool based on the Patient Quality Pyramid, help identify trends and focus discussions on improving safety and patient experience.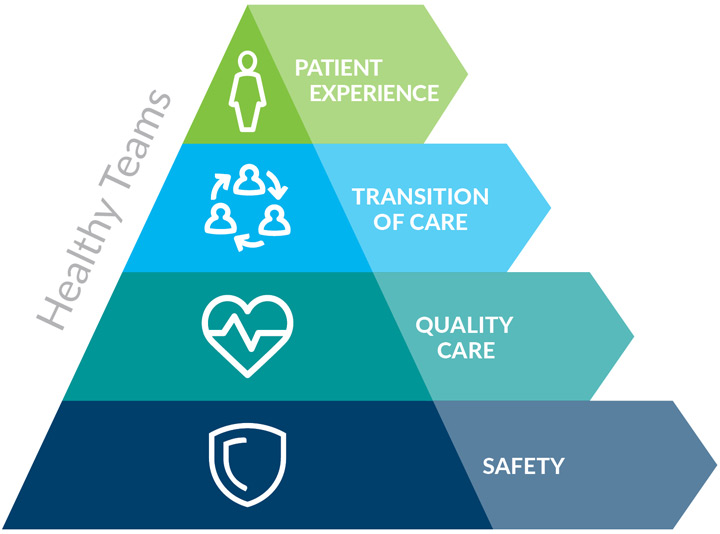 Local and National Support
DaVita's experienced clinical and operational leadership supports local clinical teammates who deliver acute care services. National leadership works in collaboration with the Joint Commission to improve quality and safety processes and standards across all geographies.
Breadth of Services and Therapies
Acute/Inpatient Therapies
Acute/Inpatient Therapies

Hemodialysis (single bedside treatment or multi-patient treatment rooms)

Continuous renal replacement therapy (CRRT)

Peritoneal dialysis (continuous ambulatory and continuous circulatory)

Apheresis (plasma- and cytopheresis)

Slow low efficiency daily dialysis (SLEDD)
Outpatient/In-Center Dialysis
Outpatient/In-Center Dialysis
At-Home Dialysis
At-Home Dialysis
Acute/Inpatient Therapies

Hemodialysis (single bedside treatment or multi-patient treatment rooms)

Continuous renal replacement therapy (CRRT)

Peritoneal dialysis (continuous ambulatory and continuous circulatory)
Apheresis (plasma- and cytopheresis)

Slow low efficiency daily dialysis (SLEDD)
Outpatient/In-Center Dialysis
At-Home Dialysis