Quality outcomes matter. Physicians can achieve enhanced outcomes by partnering with a dialysis provider that is committed to clinical excellence.
Strong Clinical Infrastructure
With the ongoing shift from volume to value in healthcare, physicians—more than ever—are focusing their attention on generating optimal clinical outcomes in order to enhance patient quality of life. The extensive tools and initiatives that were built into the DaVita Patient-Focused Quality Pyramid (in collaboration with physicians, patients and industry thought leaders) help physicians succeed in this important undertaking. The pyramid serves as a framework for physicians to address the complex factors that affect patients, such as mortality, hospitalizations and the patient experience.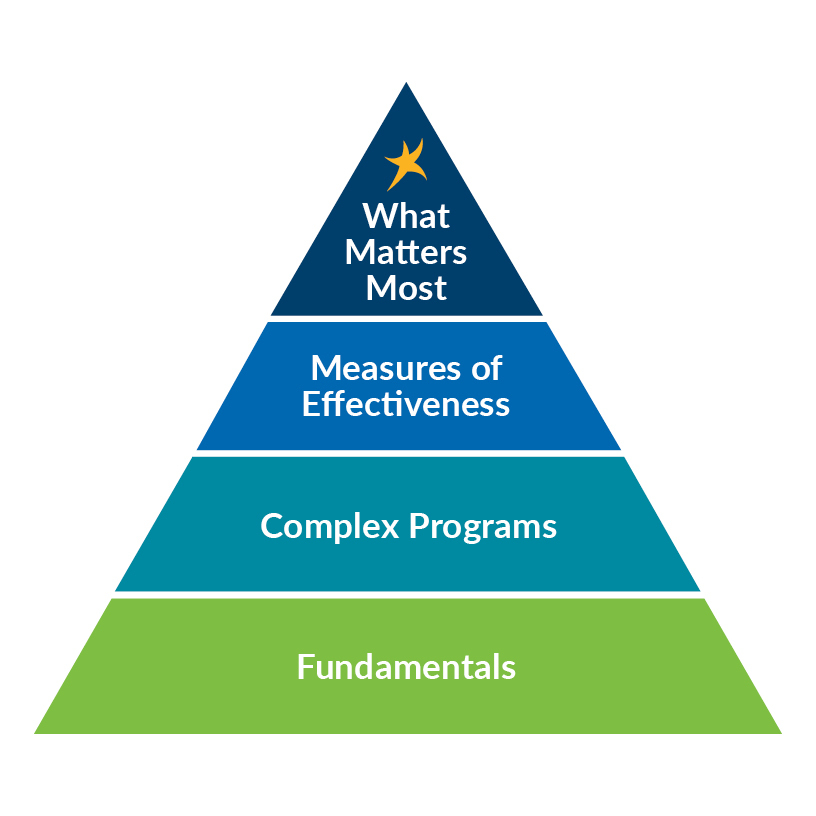 Complex Clinical Programs
Complex programs serve as an important tier in the DaVita Patient-Focused Quality Pyramid. They include:
Clinical initiatives such as preventing missed treatments and managing vascular access, fluid, infection, medications and diabetes.
Pneumococcal pneumonia and influenza initiatives: Increase pneumonia and influenza vaccination rates.
Catheter removal: Help patients transition from central venous catheters (CVCs) to arteriovenous (AV) fistulas to reduce risk of hospitalization from infections and blood clots.
Dialysis transition management: Support patients through any transition of care to improve outcomes and reduce mortality.
Clinical Outcomes
By following the DaVita Patient-Focused Quality Pyramid infrastructure, physicians and care teams at DaVita have been able to achieve high-quality outcomes. Learn more »
Physician Leadership
A strong physician leadership team plays an essential role in achieving clinical excellence. Through collaboration within the physician community, tackling challenging clinical topics and investing in continuous physician development, the clinical leadership team works to transform the future of kidney care. Learn more »
Integrated Care Solutions
Physicians and care teams who invest and participate in an advanced care management infrastructure can achieve improved clinical outcomes for their patients. Learn more »
Progressive Technology
A robust, cutting-edge technology platform, including kidney-specific care management software, an integrated rounding tool and mobile connectivity, can decrease the activity burden for physicians and increase their focus on quality care for patients. Learn more »
Clinical Research
A provider-based contract research organization (CRO) has direct access to patients and data, which gives them an edge in helping advance kidney care toward achieving higher patient quality of life. Learn more »
These infrastructures, clinical programs and support tools not only allow physicians to enhance quality outcomes—physicians also receive the support they need to shape the future of quality in kidney care.