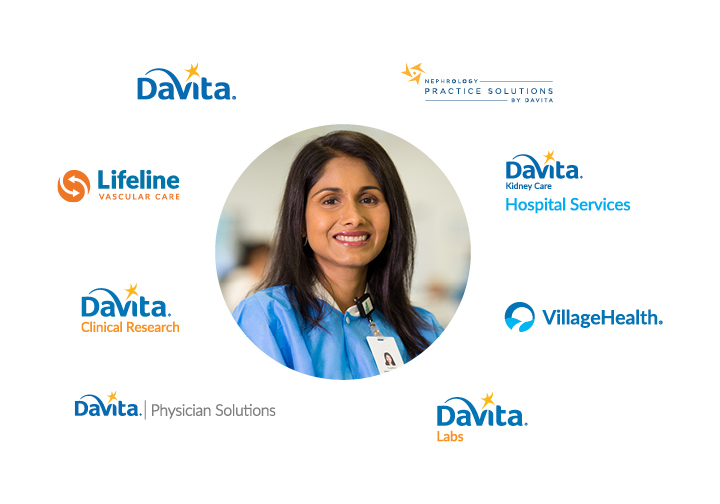 Dialyzing 12 to 15 hours per week,1 taking more than 19 pills per day2 and spending approximately 11 days per year in the hospital,3 patients with end stage renal disease (ESRD) experience significant complexities that require an individual and holistic care approach—one that is focused on improving patients' total health and quality of life, not just replacing kidney function. The approach not only includes support for all aspects of patients' medical necessities, but also the resources that physicians need to optimize patient care.
Lifeline Vascular Access
Lifeline Vascular Access is dedicated to decreasing morbidity and mortality rates due to vascular access complications.4 Access is literally the lifeline for the dialysis patient population, as it is the sole means by which their essential dialysis treatments are administered. Through relationships with nephrologists, vascular surgeons, interventional radiologists and interventional cardiologists, Lifeline Vascular Access creates and fortifies environments in which these crucial services are delivered seamlessly and efficiently. Patients receive proactive care and early intervention, and are able to maintain a quality of life that is all too often compromised by disease. Learn more »
DaVita Clinical Research
DaVita Clinical Research (DCR) is a specialty healthcare contract research organization that provides a full spectrum of services for clinical drug research and device development. Dedicated to advancing the knowledge and practice of clinical research, DCR offers integrative services that deliver comprehensive drug-development solutions. Spanning early clinical research, late-stage clinical trials, health economics, outcomes research, medical communications and biorepository services, DCR provides an innovative research perspective. Learn more »
DaVita Physician Solutions
Falcon Physician, a nephrology-focused electronic health record, is a full software suite that helps nephrologists improve efficiency while providing comprehensive kidney care. Committed to helping provide the best-possible practice experience for nephrologists, Falcon Physician understands the importance of labs and the unique challenges faced across multiple points of care, and helps nephrologists work more efficiently. Integration with dialysis centers across the country makes notes, labs and treatment information for ESRD patients available in one place. Learn more »
Nephrology Practice Solutions
Nephrology Practice Solutions (NPS) provides nephrology-specific practice-management services. With a strong portfolio of experienced and knowledgeable healthcare and business experts, NPS has more than a century of combined experience in nephrology and practice operations. Through comprehensive business metrics, dashboard reporting and innovative management models, NPS drives performance that empowers physician practices to achieve greater success. Learn more »
VillageHealth
VillageHealth understands the complexities of kidney disease, including related health issues, lifestyle changes, emotional ups and downs, medical questions and financial concerns. VillageHealth partners with physicians, healthcare professionals, health systems and payers to provide integrated care management to patients with kidney disease. The dedicated team of highly skilled nurses and specially trained professionals works to help enhance patient experience, improve population health and reduce costs. Learn more »
DaVita Hospital Services
DaVita Hospital Services is the first and only Joint Commission–accredited provider of inpatient kidney care and apheresis therapies.5 DaVita Hospital Services sets the quality standard for kidney care, providing inpatient and acute dialysis services and other specialized therapies to hospital partners. Learn more »
DaVita Labs
DaVita Labs specializes in kidney care patients and delivers accurate, timely test results. DaVita Labs enhances the overall laboratory experience by building a professional and customized relationship with each physician partner and clinician.
Lab services include the following:
Integration with Falcon EHR, connecting the physician's office with the laboratory for ultimate efficiency
An interface tailored to physicians' individual clinical applications
Data and analysis capabilities for patient- or organizational-level reports
Industry experts to support physicians and dialysis center clinicians
Staff educated by a nationally recognized training program
An extensive payer network
Single point of contact for all billing inquiries
Coordinated on-site and telephone support
Office of the Chief Medical Officer
DaVita's Office of the Chief Medical Officer (OCMO), or senior physician leadership team, is committed to meeting the needs of physician partners, strengthening clinical-operation partnership and providing the tools and knowledge to help tackle daily challenges. Learn more »
1 National Kidney Foundation. Key Points: Living with Stage 4 Kidney Disease. Retrieved December 31, 2015
2 Phend C. Dialysis patients take the most pills. MedPage Today; 2009.
3 USRDS Annual Data Report, 2014.
4 Moist L., Al-Jaishi A.A. The upfront risks of vascular access complications. J Am Soc Nephrol. 2013; 24(10), 1509–1511.
5 Ambulatory Health Care Accreditation was based on a survey of 177 DaVita acute programs, which included Joint Commission–accredited hospitals and other hospitals permitting Joint Commission access for purposes of the survey process (a limited number of hospitals disallowed access).
Related Resources
DaVita has been recognized as a leader in high quality clinical care for the fifth consecutive year in the Centers for Medicare & Medicaid (CMS) Five-Star Rating System.