Clinical Leadership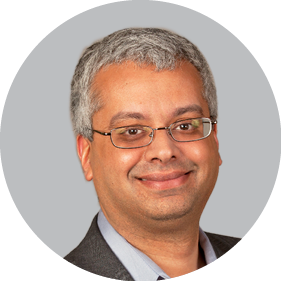 Mahesh Krishnan, MD, MPH, MBA, FASN
Group Vice President, Research and Development
Mahesh Krishnan, MD, is the group vice president of research and development. Before joining DaVita, Dr. Krishnan served as medical director and global development leader for Amgen's ESA Epogen, where he played a key role in discussions with the FDA and the Centers for Medicare & Medicaid Services. He was also the head of global health economics for nephrology at Amgen and executive director of medical policy for all Amgen projects.
He currently serves on the editorial board of Nephrology News and Issues, has written two books and has more than 50 peer-reviewed publications. Dr. Krishnan earned his medical degree from Thomas Jefferson University and completed his internal medicine training at Georgetown and nephrology fellowship at Johns Hopkins. He also holds a master's degree in public health from Johns Hopkins University and an MBA in medical services management from the Johns Hopkins Carey School of Business.
DaVita has been recognized as a leader in high quality clinical care for the fifth consecutive year in the Centers for Medicare & Medicaid (CMS) Five-Star Rating System.