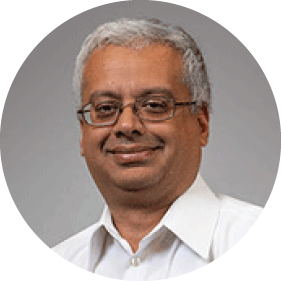 Mahesh Krishnan, MD, MPH, MBA
Group Vice President, Research and Development
Mahesh Krishnan, MD, MPH, MBA is the group vice president of research and development at DaVita. He co leads the DaVita Venture Group, DaVita's external innovation arm. He also oversees the clinical aspects of DaVita's pharma strategy and implementation function, and oversees parts of public policy in DC.
Most recently, he served as DaVita's first international chief medical officer where he oversaw DaVita's growth to 250 clinics in 10 countries. Prior to that, he served as the medical head of DaVita Clinical Research. Dr. Krishnan has guided the policy and implementation of one of Medicare's first value-based purchasing programs (the ESRD bundle), and is an expert on quality measurement and data systems in dialysis. He has a passion for service design to improve the quality, efficiency and effectiveness of healthcare delivery at scale.
Before joining DaVita, Dr. Krishnan served as medical director for Epogen® at Amgen, the head of global health economics and outcomes research for nephrology and the medical policy lead for all Amgen US products. Prior to that, he was in practice of nephrology in Northern Virginia for nearly five years. He has served on editorial boards, has written three books and has more than 70 peer-reviewed publications. Dr. Krishnan earned his medical degree from The Jefferson Medical College at Thomas Jefferson University. He also holds a master's degree in public health from Johns Hopkins University and an MBA in medical services management at the Johns Hopkins Carey School of Business.