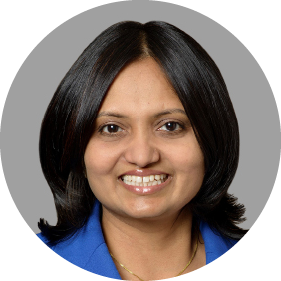 Sireesha Koppula, MD, MPH, MBA
Chief Medical Officer, DaVita NPS
Sireesha Koppula, MD, MPH, MBA is the chief medical officer for Nephrology Practice Solutions (NPS). As the clinical leader for NPS, Dr. Koppula aims to achieve industry leading clinical performance for kidney care patients, including measures to delay disease progression for patients with chronic kidney disease (CKD), reduce unnecessary inpatient and emergency department utilization, and support an optimal experience for patients who transition to end stage kidney disease.
Prior to joining NPS, Dr. Koppula served as the ambulatory chief medical officer for the University of New Mexico Hospitals. She has spent much of her career in academic medicine, implementing numerous quality improvement, population health and cost management initiatives. Additionally, Dr. Koppula served as co-chair for the Advisory Committee on Health Care Policy for the American Association for Physician Leadership and as a member of the Quality Management Committee for Blue Cross Blue Shield of Arizona.
Dr. Koppula earned her bachelor's degrees in medicine and surgery from Rangaraya Medical College. She completed her internal medicine residency at Chicago Medical School and her nephrology fellowship at the University of Arizona. She has an MBA, with a focus on health care economics, from the Eller School of Management and a master's degree in public health from Western Kentucky University.