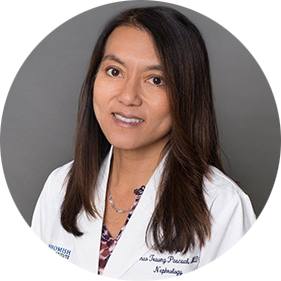 Thao Pascual, MD
Chief Medical Officer, Nephrology Practice Solutions
Thao Truong Pascual, MD, is the chief medical officer with Nephrology Practice Solutions (NPS). She is board-certified in both internal medicine and nephrology. After graduating from Harvard Medical School, she completed her internal medicine residency and nephrology fellowship at the University of Washington Affiliated Hospitals and has served as an acting instructor at the University of Washington.
Dr. Pascual is passionate about clinical excellence, business growth and innovative kidney care. She served in multiple leadership roles in her previous practice, including founder, department chair and facilities medical director. She has practiced in the Everett, Washington community since 2004 and is currently seeing patients at Snohomish Kidney Institute. She is a member of the Renal Physicians Association, American Society of Nephrology and Women in Nephrology. Additionally, she is on the Physician IT Advisory Board for DaVita and is a board member with DaVita's Nephrology Care Alliance.
When Dr. Pascual is not practicing medicine, she enjoys spending time with her family, watching her children's soccer games, skiing, jogging and traveling.