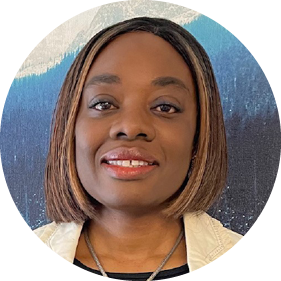 Unini Odama, MD, MPH
Vice President, Medical Affairs
Unini Odama, MD, MPH is the vice president for medical affairs for DaVita Kidney Care. At DaVita, Dr. Odama leads our infection prevention program, our health equity team, and our IKC patient safety and quality program.
Prior to joining DaVita, Dr. Odama worked in clinical practice in Alabama and Georgia. She also served as a District Health Director for the Georgia Department of Public Health. Recently, Dr. Odama served as a panelist member for the End Stage Renal Disease (ESRD) Prospective Payment System (PPS) focusing on identifying health disparities and achieving health equity in renal dialysis services.
Dr. Odama is trained in Internal Medicine, Hypertension, General and Transplant Nephrology, Clinical Research, and Public Health. She received her medical education from the University of Jos, Nigeria. Subsequently, she received her specialization training from: Brooklyn Jewish Hospital, Michael Reese/University of Illinois at Chicago, RUSH-Presbyterian hospital at Chicago, Medical College of Virginia, Harvard Medical School, and Rollins School of Public Health at Emory University in Atlanta, GA.