Transforming Kidney Care Together
To support the Advancing Kidney Health Initiative and encourage greater use of home dialysis and transplant for Medicare beneficiaries with end stage renal disease (ESRD), the Centers for Medicare and Medicaid Services (CMS) launched the ESRD Treatment Choices (ETC) Model in January 2021. This mandatory model affects approximately 30% of ESRD facilities and managing clinicians across the country.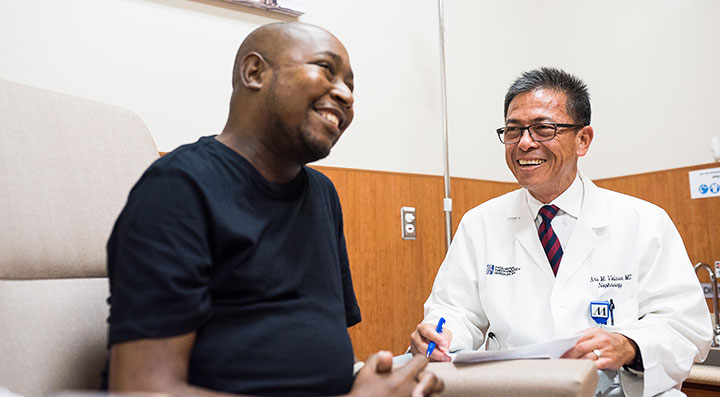 Payments
Payments will be adjusted based on rates of patients on home dialysis, on the transplant waitlist or with living-donor transplants. CMS has defined two payment adjustments for the ETC Model:
| Payment | Adjustment | Timeline |
| --- | --- | --- |
| Home Dialysis Payment Adjustment (HDPA) | + adjustment to home dialysis claims for the first three years (+3 in 2021, +2% in 2022 and +1% in 2023 | 1/1/21–12/31/23 |
| Performance Payment Adjustment (PPA) | +/- adjustment based on home dialysis, transplant waitlist and living donor transplant rate | 7/1/22–6/30/27 |
Note: Adjustment measurements exclude several populations, including patients on hospice care, those with acute kidney injury (AKI)2 and those diagnosed with dementia.
Modality Performance Scores
PPA will be determined by modality performance scores (MPS), which are based on the higher of the two following scores for home dialysis and transplant rates:

Achievement Score: Performance is compared to that of clinicians or practices in non-participating regions.

Improvement Score: Performance is compared to the provider's own historical performance.
CMS uses Medicare claims and Scientific Registry of Transplant Recipients (SRTR) data to calculate home dialysis, transplant waitlist and living-donor transplant rates. Providers will not need to submit this data to CMS.
1 DaVita does not provide physicians with billing advice. Physicians should consult their own legal and financial consultants for guidance on how the ETC Model will have an impact on them and their practices.
2 Unless the injury becomes permanent and the individual requires maintenance dialysis.