Spend More Time Doing What You Love
Home dialysis patients can dialyze from the comfort of home, giving them better control of their treatment schedules, more time for themselves, their families, their jobs, and the activities they enjoyed before starting dialysis.
Even if you are currently receiving dialysis treatment in-center, home dialysis could still be an option for you.
Home Dialysis Treatment Options
There are two types of dialysis you can perform at home: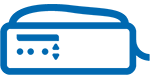 Peritoneal Dialysis (PD)
PD is a needle-free dialysis treatment that you can perform at home or even at work. PD is the treatment option most similar to your natural kidney function and can be performed during the day or at night while you sleep.

Home Hemodialysis (HHD)
HHD uses a machine with a filter to remove fluid and waste from the blood. With the help of a care partner, you can perform HHD treatments on your own schedule and in the comfort and privacy of your home.
---
What are potential benefits of home dialysis?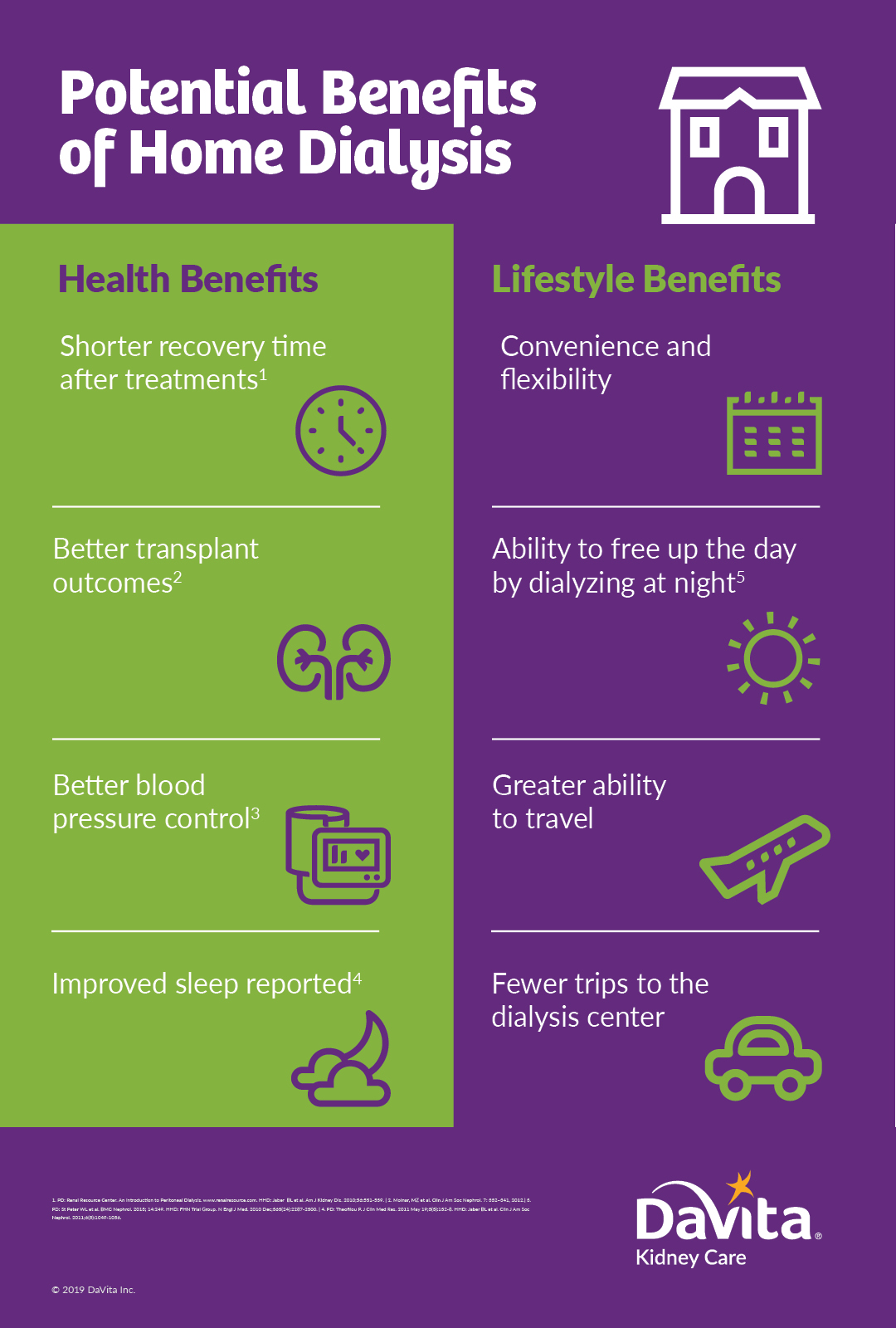 ***References:
Not all patients are eligible for home modalites. Please check with your physician regarding diagnosis, treatment and other specific information regarding your condition.
1. PD: Renal Resource Center. An Introduction to Peritoneal Dialysis. www.renalresource.com. HHD: Jaber BL et al. Am J Kidney Dis. 2010;56:531-539. | 2. Molnar, MZ et al. Clin J Am Soc Nephrol. 7: 332–341, 2012.| 3. PD: St Peter WL et al. BMC Nephrol. 2013; 14:249. HHD: FHN Trial Group. N Engl J Med. 2010 Dec;363(24):2287-2300. | 4. PD: Theofilou P. J Clin Med Res. 2011 May 19;3(3):132-8. HHD: Jaber BL et al. Clin J Am Soc Nephrol. 2011;6(5):1049-1056.
13. Schiller et al. Nephrology News & Issues. 2010; 24(10):36,38,40
14. Nephrology News & Issues. July 2017.
DaVita serves more home dialysis patients than any other provider in the United States.14
Get answers to some questions you may have about home dialysis.
Nine out of ten doctors would choose home dialysis for themselves.13 Ask your doctor why.
Find a Home Dialysis Program
Call 1-800-424-6589 now to talk to one of our placement specialists or start a search.
Take a Deeper Look at Home Dialysis
Connect with others who are considering or on home dialysis in the myDaVita forums.
Learn to manage your kidney health.
Get your questions answered at a no-cost Kidney Smart® class.
Resources for Home Dialysis Patients
Resources for Home Dialysis Patients
myDaVita forums let people with chronic kidney disease, those on dialysis, family members and friends talk and share their experiences.
Could home dialysis be right for you? Take the quiz and talk to your doctor to help you decide.