Home Hemodialysis Equipment Options
When home hemodialysis (HHD) was first developed in the 1960s, the equipment was large and difficult to use. But new technological advances have made more reliable and user-friendly machines and water treatment equipment available for home hemodialysis (HHD) patients. This new generation of machines is easier to set up, clean and disinfect while offering increased flexibility and a much more comfortable experience for patients.
The newest home hemodialysis machines are designed to take up less space and require fewer supplies, meaning less required storage space. Some new equipment options are also designed to provide more portability, allowing patients the ability to travel for work or leisure with their machines.
What type of equipment is used for home hemodialysis?
A home hemodialysis machine removes waste and fluids from the body when the kidneys no longer work well enough to keep the body healthy. Different systems work for different people, and you should work closely with your doctor to choose a dialysis method and the equipment that works best for you. It's important to note that some homes might require plumbing and/or electrical modifications to accommodate home hemodialysis machines.
Equipment choices
There are a number of equipment options available and patients who are interested in home dialysis should talk with their doctors about which option might be right for them. The following are descriptions of two home hemodialysis machines currently available:
NxStage-System One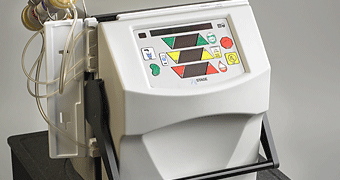 Image of NxStage-System One dialysis machine.
Photo courtesy of NxStage Medical, Inc.
Easy to set up – The NxStage System One™ acts like any other piece of home electronics, plugging into any electrical outlet and draining through the home's existing plumbing. Once placed where it is easily accessible for regular use, there is no need to make costly modifications to the home.
Take it on the road – The NxStage System One Express package allows patients to take their equipment anywhere they go in the U.S. Prepackaged fluids are easy to transport and can be delivered to a home, hotel or anywhere in the U.S. Hard-sided aluminum cases are also available for purchase to protect equipment while on the road.
Simple to use – Learning how to prepare for regular treatment takes time, but using the NxStage equipment is not complicated and can be operated with the right training. A drop-in cartridge, intuitive control system and easy tap water purification system reduce the time and effort in conducting regular treatments.
On your terms – The NxStage System One allows users more free range as to when they perform treatments and for how long (such as frequent short daily treatments).
Fresenius-K at Home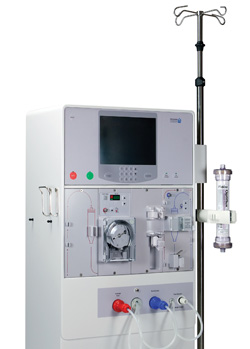 Image of Fresenius-K at Home dialysis machine.
Flexible treatments – Offering a broad range of therapies, including traditional or short-daily home hemodialysis therapy, the Fresenius-K allows patients to tailor treatments to their needs.
Choices – Physicians have a choice of a wide variety of dialysate and dialyzer options, thereby creating a customized prescription for each patient.
Simple to use – Step-by-step instructions keep regular home hemodialysis treatments easy to perform.
On your terms – The Fresenius-K at Home offers users the flexibility to schedule the frequency and duration of their treatments on their terms.
Take a Deeper Look at Treatment & Services