Take control of your kidney health
Join the 200,000+ people now educated on kidney health. Attend a no-cost virtual class (online or via telephone) from the comfort of home , or find an in-person class (where available).
Chicago, Illinois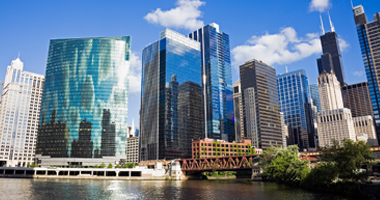 Skyscrapers along Lake Michigan
A muddy history
Chicago, meaning Wild Onion, was named in 1700 by the Potawatomis. The original landscape was a marshland covered with, and smelling of, wild leeks and garlic. French explorer Louis Jolliet saw the great transportation potential Chicago offered as a passage from the Chicago River (originally flowing into the Great Lakes) to the Des Plaines River (flowing into the Mississippi River).
Chicago has endured many transitions and much growth during its colorful history. Its swampy origins created a variety of problems for early residents, like insect infestations and muddy roads where horses sank up to their bellies; comical signs were posted saying, "Fastest Route to China." Eventually, the entire city was raised two meters to give Chicagoans a solid place to call home.
The Great Chicago Fire of 1871 was a terrible tragedy, but the new Chicago that rose from the ashes (the so-called Second City) became the birthplace of modern architecture, a transportation and trade hub, a powerful industrial force and a safe destination for the post-Civil War migration of Southern blacks.
Things to do
Now Chicago is a thriving metropolis with an array of things to see and do. There are a variety of old time and modern sights to see that make the Chicago uniquely its own.
To look through the eyes of Al Capone, one of Chicago's most notorious residents, take the Untouchable Tour (773-881-1195) and learn how Prohibition and bootlegging helped create one of the strongest American crime rings. You can visit Taylor Street in the heart of Little Italy. At one time this area was run by the Genna family. Taylor Street features many of the crime scenes where wise guys met their demise, including the infamous St. Valentine's Day Massacre. It's an entertaining way to spend the afternoon and a chance to see a neighborhood that's off the beaten path.
Get an aerial view of Chicago from the Skydeck (312-875-9447) at Willis Tower (formerly Sears Tower), the tallest building in the United States. The Windy City was nicknamed for its hot-winded politicians, but when you feel the breeze off Lake Michigan on the 94th floor John Hancock Observatory (1-888-875-VIEW), "windy" takes on a whole new meaning. The Signature Room at the 95th (312-787-9596), an award-winning restaurant serving contemporary American fare, is another way to soak in the amazing vistas from the John Hancock Building. Lunchtime views are spectacular, and evening views are romantic with the city twinkling below.
A relaxing cruise on the water offers a unique perspective of Chicago's landmarks. A number of lake and river cruises are available; find a Chicago Boat Tour Comparison from Chicago Traveler (1-800-261-8159). If you want to enjoy the lake in a less formal way, Chicago's waterfront is completely accessible to the public. You'll find visitors, as well as Chicago natives, tanning on the sandy beaches and swimming in the refreshing lake.
Millennium Park, a spectacular mixture of art, architecture, lush gardens and free entertainment, is the newest addition to Chicago's cultural greatness. The Jay Pritzker Pavilion, an outdoor concert venue that stands 120-feet high, with billowing ribbons of brushed stainless steel forming a crown, was designed by famed architect Frank Gehry. A steel pipe trellis, woven across the Great Lawn accommodating 7,000 people, supports the state-of-the-art sound system. A mixture of music and theatrical entertainment is offered day and night throughout the summertime, as well as, free Saturday morning workouts on the lawn. The interactive Crown Fountain, the contemporary Lurie Garden and the popular Cloud Gate sculpture, add to the impressive atmosphere. If you can only visit Chicago in the winter, Millennium Park turns into a charming ice skating rink.
Chicago offers a multitude of entertainment options, including impressive museums, like the Art Institute of Chicago, featuring one of the most vast and impressive permanent collections of art in the country, including Chagall's stained glass window. The Museum of Science and Industry is filled with educational, hands on installations the entire family will enjoy. The Shedd Aquarium is a unique and beautiful environment starring Beluga whales swimming in a glass tank that gives way to a Lake Michigan view, as far as the eye can see.
You can't leave Chicago without visiting "Sue", the largest, 65-million-year old, most complete Tyrannosaurus rex in the world. Sue lives in the expansive Field Museum of Natural History among Egyptian mummies, African man-eating lions and artifacts from all over the world.
While Wrigley Field, built in 1914, isn't technically a museum, it's a shrine to baseball history and the second oldest ballpark in the country. Relax while taking in a Cubs game, enjoy the old-time appeal of the ivy-covered outfield and feel the historical moments, such as: Babe Ruth hitting his famous homer in the 1932 World Series; Pete Rose's 4,191st career hit, which tied him with Ty Cobb for the most hits in baseball history; Sammy Sosa's 60th home run and Ernie Banks' 500th career home run.
Nightlife and restaurants
In his song,Chicago (that toddlin' town),composer Fred Fisher wrote: "Bet your bottom dollar you'll lose the blues in Chicago." But you may just find them, as Chicago is known as a Blues town. Blues club Kingston Mines, the oldest, largest and voted the best 8 years in row, features famous and talented artists from all over the world.
The Green Mill and Pop's for Champagne offer two unique Jazz experiences. The Green Mill in uptown was one of Capone's hangouts and offers a grittier version of Chicago, while Pop's in River North offers a refined evening of fine wines, champagnes and liqueurs.
Chicago is a food town. You can find any nationality, price range or ambiance you desire. Penny's Noodles is the best cheap eats in town, featuring a light Asian fare with a variety of noodles in savory spices. Uno Chicago Grill specializes in famous Chicago deep dish pizza pie, a real Chicago treat, and you'll find dialysis-friendly items on the menu.
Interested in seeing theater? Again, Chicago offers many options in every price range. Check out the schedule at the Steppenwolf Theater.
Second City Improv, the spring board for such greats as Bill Murray, John Belushi, Mike Nicols and many others, is a comedy cornerstone. If you're looking for laughs, consider night out at this famous nightclub.
Shopping
If you're a shopper, Chicago offers thousands of stores throughout the city, but the Magnificent Mile on Michigan Avenue is a good place to start. Chicago's own Marshall Fields (recently acquired by Macy's) is a beautiful department store filled with treasures. Other popular stores including The American Girl Store, Lord & Taylor, Niketown, Gucci and many more favorites are represented.
Where to stay and transportation
The city of Chicago is large and offers lots of hotel options. Companies like www.expedia.com and www.orbitz.com are great resources for finding the accommodations that best suit you. Chicago has a great public transportation system. Taxi cabs are easily available, and the El subway train system is easy to navigate, plus it gives you a taste of living in the Big City.
Summary
Composers Cahn and van Heusen penned it best: "Chicago is...My kind of town!" After your visit, you'll agree with the words sung by Mr. Frank Sinatra and say Chicago is your kind of town, too! Delight in all the many facets of Chicago from its cosmopolitan amenities to its hard-working, mid-western work ethic to its ethnic diversity. Visit www.choosechicago.com to find out more of what Chicago can offer you.
Take a Deeper Look at Education