Take control of your kidney health
Join the 200,000+ people now educated on kidney health. Attend a no-cost virtual class (online or via telephone) from the comfort of home , or find an in-person class (where available).
Philadelphia, Pennsylvania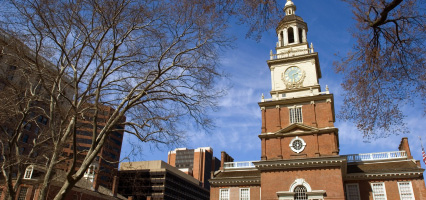 Independence Hall
Philadelphia has four central areas: Old City and Society Hall & Penn's Landing both overlook the Delaware River; on the other side of town, flanking the Schuylkill River, are Center City and Logan Square & the Museum District.
Getting around is easy by car, which you can rent by the week, day, or even hour from Enterprise CarShare (membership required) (215-730-0988). Public transport is good also, via seasonal Phlash buses (215-4-PHLASH) and SEPTA trains (215-580-7800).
Weather is defined by hot summers, mild winters and 200 days of sunshine per year.
If you're just in the "deciding phase" about a trip to Philly, you'll save time and money by first contacting the Independence Visitor Center (1-800-537-7676), where they can connect you with everything Philly, from food, lodging and sports to family-oriented activities and historic sites. The IVC calls itself "your free personal concierge" and they know what the city offers inside and out.
Old City is often referred to as America's most historic square mile. Here lie Independence Hall and Liberty Bell Center, on soil where feisty colonial patriots fostered the American Revolution. Homes and buildings, some dating back to the 1770s, have been beautifully preserved and are all within walking distance of each other.
Philadelphia's planner, William Penn, survived the great London fire of 1666, and was determined to avoid the fire hazards posed by narrow streets and wooden housing. So Penn designed wide and spacious boulevards for Philadelphia. He also wanted to treat European settlers and Native Americans equally, so no walls were built in or around the city. Today, a visit to Society Hill and Penn's Landing reveals a mix of cafes and restaurants mingling with well-preserved historic churches, synagogues, homes and museums.
Center City is Philly's business and financial center, with museums, galleries and cultural venues. Benjamin Franklin Parkway runs through this part of the city about a mile long. It begins at Philadelphia City Hall, moves around Logan Circle and stops at the Philadelphia Museum of Art.
The historic district called Rittenhouse Square, sometimes compared to the Champs-Élysées, boasts ritzy condos, townhomes and hotels. You'll find ornate fountains and statues here, along with the country's third-largest museum and art collections galore.
Old City
Independence National Historical Park (known locally as Independence Mall)
"We hold these truths to be self-evident, that all men are created equal..." Thomas Jefferson wrote these famous words to begin the Declaration of Independence, signed here in 1776. This commemorative park (1-800-537-7676) spans 55 acres over 20 city blocks and encompasses the US Mint (215-408-0112), Liberty Bell Center, a visitor center, the National Museum of American Jewish History (215-923-3811), Edgar Allen Poe's home, and much more.
Independence Mall isn't all for grownups: billed as "a great hideout for families," Franklin Court is the original site of Ben Franklin's house. These days, kids are encouraged to explore the home's steel framework while stories are told by a Ben Franklin lookalike in period clothing.
In all, 20 buildings are generally open to the public. Admission is free. Begin at the visitor's center and get free tickets, with a timed reservation to Independence Hall. If you wish to reserve tickets in advance of the day of your visit, a fee of $1.50 applies.
African American Museum in Philadelphia
Dedicated to collecting, preserving and interpreting the material and intellectual culture of African Americans, the African American Museum in Philadelphia (215-574-0380) received a $4.5 million renovation in 2010. This Smithsonian affiliate holds workshops and demonstrations for the public.
Betsy Ross House
Said to be the very place where the Quaker seamstress sewed the first American flag by the commission of George Washington. The home is decorated with antiques and reproductions of the period, including personal items such as Betsy's eyeglasses, family bible and Chippendale chest (215-686-1252).
City Tavern
The doors opened in 1773, reminding British immigrants of London pubs left behind. During the Revolution, members of the First Continental Congress gathered here. Washington later used it as his headquarters. Servers in period dress whisk colonial dishes to your table and offer ales brewed from the personal recipes of Washington and Jefferson (215-413-1443).
Old City Art Walk
The first Friday of every month, galleries open their doors for an artsy walk-around.
Philadelphia Phillies Baseball
April to September in Citizens Bank Park (215-463-1000) is where you can also watch every regular season game online. Tickets, ball park tours.
Society Hill and Penn's Landing
The waterfront where William Penn first stepped ashore now teems with restaurants, shopping, and things cultural. Paddle wheelers, tour boats and private charters operate daily at the Marina. Summer nights are filled with open-air concerts and screenings under the stars. The action is always exciting at Riverwalk Casino, or you can choose a quieter visit to the International Sculpture Garden. Here's a full calendar of events (215-928-8801).
Independence Seaport Museum
The "anchor" of Penn's Landing, the Independence Seaport Museum (215-413-8655) is home to the 1892 warship Olympia. It's a place where artisans still build and restore wooden boats. Seafaring lessons are offered aboard the museum's historic vessels. Kids will love the submarine sleepover, billed as "an incredible overnight adventure focused on the mysterious, silent ships of the sea depths."
South Street and Walkway
Counterculture is alive and well on South Street (215-413-3713), a vibrant cornucopia of galleries, cafes, vegetarian restaurants and sushi bars, dotted with interesting little shops, bars with live music and body piercing & tattoo parlors. From the outlandish to the outré, it's all here.
Center City
Reading Terminal Market
"The best, freshest and liveliest public market since 1893," boasts Reading Terminal Market's website (215-922-2317). Sip a Pennsylvania wine, take a cooking class, peruse the fresh fishies, watch pretzels made from scratch or take a "Taste of Philadelphia" walking tour of the market led by a local food writer.
Antique Row
Even if you're not exactly sure what your taste is in antiques and collectibles, you'll develop it here. Choose from Gothic, Colonial, French, English, Art Nouveau, Art Deco, Victorian — the list goes on and on. Antique Row (215-219-5825) is found on Pine Street between Broad and 9th Streets. More than 70 shops and restaurants populate these beautiful, tree-shaded blocks.
Jeweler's Row
Eighth and Sansom is bling central in Philly. Jewelers are stacked from street level to upstairs, beguiling shoppers with diamonds, semi-precious stones and costume jewelry. If it glitters, it's here, in venues ranging from tiny family-owned shops to blockbuster showrooms.
King Of Prussia Mall
Shopaholics beware: you are about to enter the second-largest shopping center in the U.S., with 450 stores surrounded by a 126-acre parking lot. Shop 'til you drop from Hermes to JC Penney. If you're in a group, synchronize your watches and pick a time and place to meet up — otherwise, you may not find each other for days. There's even an online Trip Planner that will let you know how to get there, the best place to park, and which stores have what you're looking for (610-265-5727).
Logan Square and the Museum District
Academy of Natural Sciences
Seventeen million specimens on four levels, plus a live butterfly exhibit and a hall of dinosaurs make the Academy of Natural Sciences (215-299-1000) a hit with all ages. True to its mission of connecting people to nature since 1812, the children's museum features live animals and a working beehive.
Philadelphia Museum of Art
An outstanding collection of Old Masters, Impressionists, Postimpressionists, Pennsylvania Dutch and American art is located at the Philadelphia Museum of Art (215-763-8100). And don't forget the Ming Dynasty Ceramics. Enormous, with masterpieces from around the world, the museum is considered among the greatest ever built.
Rodin Museum
The largest collection of Rodin's works outside of Paris, including his most instantly recognizable, The Thinker, which graces the museum's garden. Works in bronzes, terra cotta, plaster and ground glass from every period of Rodin's career are spectacularly presented. The museum is making upgrades, so check here for progress before planning your visit (215-568-6026).
Please Touch Museum
Bring the kids and turn them loose at the Please Touch Museum (215-581-3181). Exploring Trees Inside & Out, and River Adventure are just two of the dozen or more exhibits. There are even interactive display areas especially for babies, sheltered from the "wild romping" of older children. The museum staffers say with a smile, "There is no wrong way to play!"
Eastern State Penitentiary
Al Capone slept here… along with various and sundry other criminal characters. Eastern State Penitentiary (215-236-3300) is open every day of the year, just like the good old days when it was a real prison. Eleven acres of crumbling, empty ruin… or is it? Find out during Twilight Tours, when shadows are falling. Or take a daytime tour of this vintage, max-security penal institution. The TowerCam was added in 2010 to allow visitors a view from the perspective of a guard on the tower catwalk.
Summary
Philadelphia is home to many historic areas that seamlessly meet with today's modern shops, restaurants and entertainment venues. You can take in the views of the past and present in one whole day. And the best part is you can manage dialysis as you enjoy your time in the City of Brotherly Love.
Take a Deeper Look at Education