Take control of your kidney health
Join the 200,000+ people now educated on kidney health. Attend a no-cost virtual class (online or via telephone) from the comfort of home , or find an in-person class (where available).
Phoenix/Scottsdale, Arizona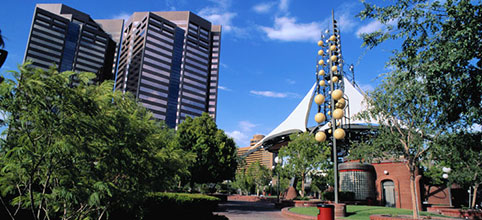 Patriot's Park, Downtown Phoenix
Thinking about some fun in the Valley of the Sun but worried your dialysis needs may prevent you from traveling? With 14 DaVita® centers in Phoenix and Scottsdale, you can enjoy all the activities these cities have to offer and get the quality treatment you need.
The Phoenix/Scottsdale area is nicknamed the Valley of the Sun for a good reason: more than 320 days of sunshine a year with an average temperature around 85 degrees. Surrounded by the beauty of the Sonoran Desert, the Valley of the Sun has roots in Native American history. These culturally diverse cities offer top-notch resorts, excellent sightseeing opportunities, and fun outdoor activities such as golf and hiking.
Relaxing resorts
Enjoy your time in Phoenix and Scottsdale by staying at a luxury resort that will pamper you with amenities such as spa treatments and world-class cuisine. The Arizona Biltmore Resort and Spa (800-950-0086) is a favorite of celebrities and politicians. Built in 1929, this "Jewel of the Desert" features 39 acres of carefully tended grounds, a serene oasis in the middle of the desert.
If you'd like to be closer to Scottsdale, try The Fairmont Scottsdale Hotel (866) 540-4495) or The Phoenician (480-941-8200). Both feature exquisite day spas that will cater to your relaxation needs from facials to massages.
Native American culture
Arizona is home to 21 Native American tribes. Scottsdale and Phoenix have a variety of museums and parks dedicated to Native American heritage. Stop by the Pueblo Grande Museum (602-495-0901) and see a partially excavated Hohokam ruin, as well as a replica of a Hohokam village, based on archaeological findings and data.
The Heard Museum (602-251-0213) is renowned for its stunning collection of Native American art. Not only does the museum feature ancient artifacts, there are regular exhibits of work by contemporary Native American artists.
At the Tonto National Monument (928-467-2241) you can enjoy a one-to-three-mile walk through the cliff dwellings of the ancient Salado people. These dwellings date back to the 13th century.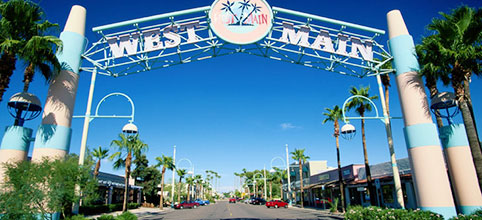 Scottsdale
Architecture and the fine arts
If you're a fan of architecture, be sure to visit Taliesin West™ (480-860-2700), the winter home and studio of acclaimed architect Frank Lloyd Wright. Taliesin West is a stunning realization of Wright's philosophy of organic architecture and nature conservation. Preserved as a legacy of Wright's architectural genius, it is now a school and home to the Frank Lloyd Wright Foundation.
The Phoenix Art Museum (602-257-1222) hosts international exhibits throughout the year and is acclaimed for its collection of over 16,000 works from America, Europe, Asia and Latin America. Contemporary art and fashion design are also featured.
If you're looking to enjoy the works of local artists, look no further than Old Town Scottsdale. Every Thursday frojm 7-9 p.m. for the past 30 years, Scottsdale has hosted the Scottsdale ArtWalk. You can browse through a variety of galleries and meet local artists to discuss their work.
Outdoor activities
With more than 250 golf courses and beautiful weather most of the year, the Phoenix/Scottsdale area has been proclaimed "The Golf Capital of the World" by the National Golf Foundation. Whether it's a course on one of the area's many luxury resorts or a public course, you can enjoy your favorite sport wherever you are in the Valley of the Sun. Looking to improve your game? Try a lesson at the Golf School of Scottsdale (800-356-6678), rated by Golf Magazine as one of the top 25 golf schools in America.
The Sonoran Desert affords plenty of opportunity to explore a beautiful and diverse ecosystem by foot or vehicle. Whether you'd like to hike the Camelback Mountain or experience the ADA (Americans with Disabilities Act) compliant trail at Steele Indian School Park, there are plenty of opportunities for novice and more-experienced hikers. If driving off-road is your thing, there are several tours available. Arizona's Desert Events (602-569-4889) features tours with a breakfast, lunch or sunset dinner cookout (or without cookout for those on a tighter schedule).
Summary
The Phoenix/Scottsdale area offers relaxing and unique experiences for those who want to explore a beautiful desert landscape. Travelers on dialysis can be easily accommodated. Just call ahead and make arrangements, and soon you'll be having fun in the Valley of the Sun!
Take a Deeper Look at Education