Take control of your kidney health
Join the 200,000+ people now educated on kidney health. Attend a no-cost virtual class (online or via telephone) from the comfort of home , or find an in-person class (where available).
Traveling for Home Dialysis Patients
One of the primary potential benefits of home dialysis is the overall freedom and flexibility it offers—which may help make traveling easier for people on dialysis as well as their loved ones.
Traveling on peritoneal dialysis
People on peritoneal dialysis (PD) may have an easier time traveling because their treatments may not require access to a machine if they are able to perform manual dialysis exchanges, and the necessary supplies are smaller, more portable and can be delivered anywhere in the continental United States.
Here are some things to think about when you travel on PD:
Pack an adequate amount of supplies and any necessary medications in a safe and easily accessible way.
Work with your dialysis supplier to have dialysate delivered to your destination.
Make a special

fi

rst aid kit to carry with you that includes two days' worth of essential supplies to help prepare for any unforeseen circumstances, such as a baggage delay when traveling by plane.
If traveling by air, make certain that your carry-on baggage meets security and airline regulation well in advance.

Traveling on home hemodialysis

Many people on home hemodialysis (HHD) have more choices than ever before with equipment that is more portable, easy to set up and supported with supplies that can be delivered anywhere in the continental United States. Here are some things to note when you travel on HHD:
If you dialyze with the NxStage System One®, you can take your portable equipment with you and continue HHD while you are on vacation.

The NxStage machine can typically be checked on airplanes as baggage. Check with your training nurse about using hard or soft cases that can be purchased from the manufacturer. It's strongly recommended that you also call your airline in advance to check on their policies and restrictions for carry-on baggage.
If you use another type of HHD machine that cannot travel with you or you do not want to travel with your equipment, your home dialysis care team can work with you to locate dialysis centers and coordinate visits for treatments while you're away. It is recommended you coordinate these details with plenty of advance notice.
Additional tips to help you travel on home dialysis
Work with your nurse

,

kidney doctor (nephrologist) and other care team

members to help coordinate your trip and plan for different scenarios. Provide the team with your travel dates, destination, and travel destination contact address and phone number.

Regardless of your type of home dialysis treatment, having all the dialysis supplies you need is essential when you are "on the road."
If you travel with your own equipment and supplies, identify a few local dialysis centers near your travel destination in case you need additional assistance or support.
Call your insurance carrier before traveling to find out what expenses are covered. Coverage restrictions may apply when traveling outside of the U.S.
If you have dietary restrictions, pack kidney-friendly snacks. Many airlines do not provide meals, and airport shops and restaurants may not have healthy food options.
If you have a manual wheelchair, an electric wheelchair or a scooter, notify your airline that you are traveling with these items and will need "maximum assistance" at the airport.
Call DaVita Guest Services at 1-800-244-0680 at least three months before your trip to receive travel assistance.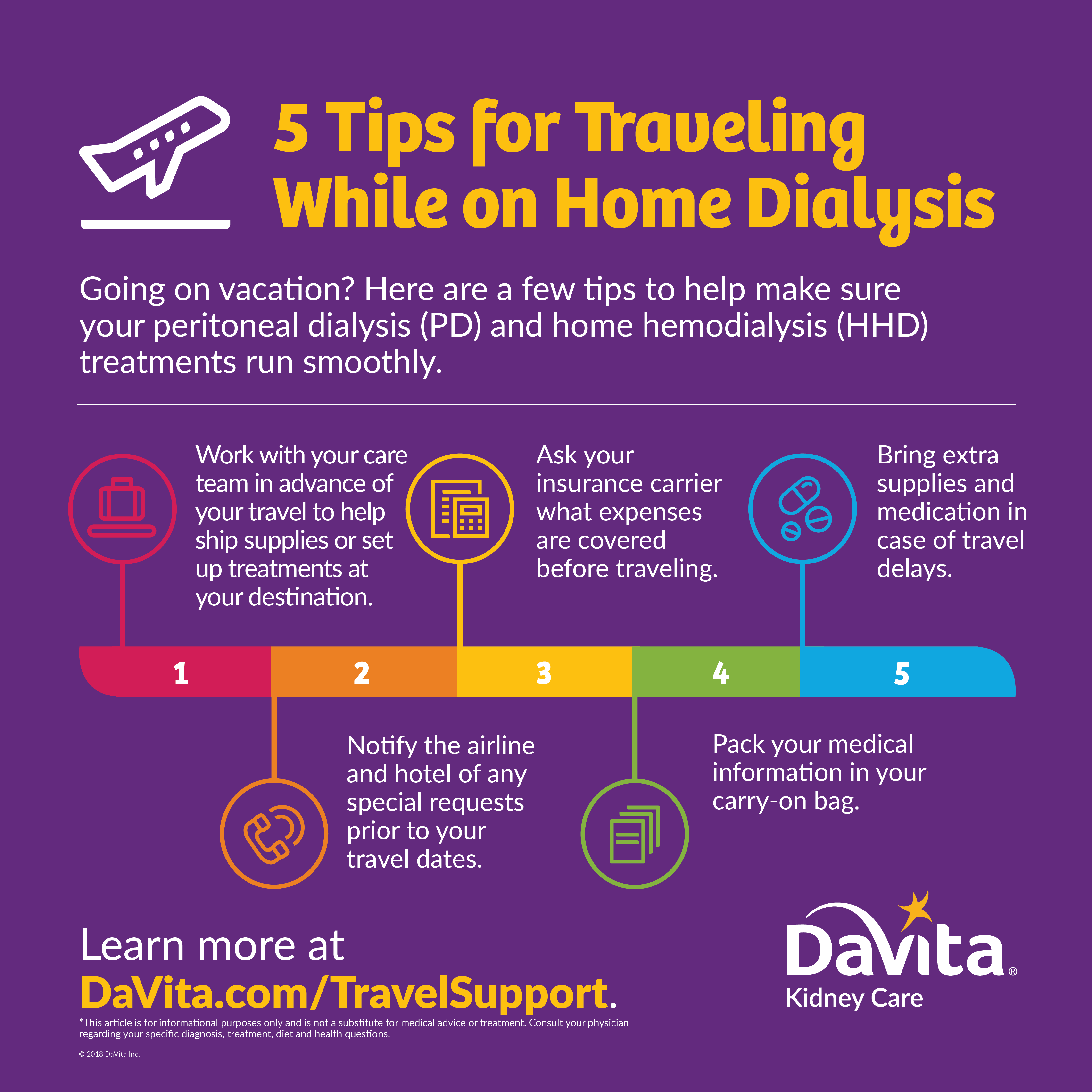 Find a DaVita home dialysis program
Are you interested in finding a PD or HHD program near you? Call DaVita Guest Services at 1-800-244-0582 or find a center with a home dialysis program nearest you.
Related Articles
Take a Deeper Look at Education